Course Outline and Links to the 10 Session Pages
Part 1 - Medicine Walk - by Richard Wagamese
"'I ain't sure how to feel,' the kid said. 'Sometimes when things get taken away from you it feels like there's a hole at your centre where you can feel the wind blow through, that's sure,' the old man said. 'Whattaya do about that?' 'Me, I always went to where the wind blows.' The old man put a hand on the kid's shoulder and turned him to face him square on. "Don't know as I ever got an answer but it always felt better being' out there.' The kid nodded. They looked at each other. The horse neighed softly in the barn and the old man pulled the kid to him and clasped his arms around him and rocked side to side. The kid ... closed his eyes and pulled it all into him." p244
Part 2 - A Fair Country - by John Ralston Saul
""We are a metis civilization. What we are today has been inspired as much by four centuries of life with the indigenous civilizations as by four centuries of immigration. Perhaps more. Today we are the outcome of that experience. As have Metis people, Canadians in general have been heavily influenced and shaped by the First Nations. We still are. We increasingly are. This influencing, this shaping is deep within us. (p16) ... At the core of the Canadian civilization there do exist ideas used and shaped over four centuries. Our idea of citizenship as a circle that welcomes and adapts. Our conviction that fairness and inclusion are the keys to how we function. These also are simple ideas. But all successful civilizations are built upon simple realizations, usually dragged out of difficult circumstances. Our ideas are particular to our experience." p715
Oct 20
Session 5
Reading - A Metis Civilization - Chapters 1-3
Presentation Powerpoint - PDF format.
Opening 1 - Mike Grammer - Reflections on Wagamese (read by Wayne)
Opening 2 - Ken Kittridge - A Fair Country
Video - Oprah reading poem of Sue Monk Kidd.
Song - Buffy Sainte-Marie - My Country Tis of Thy People Text of this very angry song.
Closing - Joan Gray reading excerpts from 500 Nations,
including the Great Peacemaker's "Iroquois Constitution"
Oct 27
Session 6
Reading - A Metis Civilization - Chapters 4-7
Presentation Powerpoint - PDF format.
Nov 3
Session 7
Reading - A Metis Civilization - Chapters 8-10
Presentation Powerpoint - PDF format., Apple format
Nov 10
Session 8
Reading - Peace, Fairness & Good Government - Chapters 11-15
Presentation Powerpoint - PDF format., Apple format
Nov 17
Session 9
Reading - An Intentional Civilization - Chapters 23-25
Presentation Powerpoint - PDF format., Apple format
Nov 24
Session 10
Wrap Up Evening.
Presentation - Wayne
An hour with the Author is planned (phonecall).
Review of the theme. Sharing of Learnings.
Note on Documents and Videos. If in clicking documents linked in these web pages, you cannot open them, it may be because you do not have Microsoft Office installed at the computer you are at. There are two FREE alternatives. First, Microsoft themselves offer auxiliary programs called "readers" for their various programs like PowerPoint and Word. LINK. Second, a complete Office Suite is available that can read and write Microsoft documents. The Open Office Project is now in about 80 languages and an excellent program set. LINK.
Holy Manners The background on the phrase and why we have adopted it. The guidelines for our studies.

Internet Discussion Group at Yahoo - the St. David's Forum. The archive is public and readable. Participation is by invitation. Click HERE if you would like to join. You will then be able to post your own responses to the list and will be emailed the notices and contributions of the others. Click left to visit the archives of the site (read only). There are presently 88 persons.
Apply your heart to instruction and your ears to words of knowledge. ... Proverbs 23:12 (NIV)
Group Facilitator. Wayne Hols
t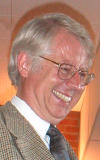 EMAIL WAYNE

I spent most of my life thinking like a church professional, rather than as a regular congregational member. My training as a pastor always had me asking myself 'how can I apply this discovery, insight, new information to a regular church setting?'

Often, clergy have been hesitant to share the discoveries they have made through a 'critical' approach to the Bible with their parishoners because they wonder how laypeople might accept it. I have found that many thinking laity are professionals in their own fields of endeavour and understand a critical approach very readily. What they seek are ways of relating faith to daily living.

I am grateful for the journey I have been taking through ordained ministry to teaching at the university and serving as a fellow layperson at St.David's United Church. Here we find that questioning and honest expression of our faith and doubt is readily accepted and supported.
Group Facilitator. Jock McTavish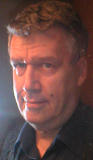 EMAIL JOCK

I am a student and a poet, a democrat and a techocrat, an eclectic eccentric. I grew up in a loving Baptist community, so in my heart I'm still a Bible loving evangelical. As I grew in learning I found a new home in the United Church whose tolerance embraces the broadest range of Christian understanding. I most enjoy the illumination of our ancient traditions by modern scholarship. For they show in clear novel ways that the perspectives of the Special Ones were seldom the understandings of those that followed. They show all knowledge to be in relationship .

There seems a lack of understanding in our secular world for religious practices. The reasons why I still gladly - even necessarily - attend church are difficult to voice to those unfamiliar with church, or those injured by church. Elliott got it right. We find our way back to the place we started from. But with new understanding.