Course Outline and Links to the 10 Session Pages
Material is added steadily through the course as it is found and given and written, and links will appear below.
Part One: Disagreeable Gods - Polemics and Apologia
0a
-
"My Quarrel With The Supernatural" ... Larry Fisk. Larry developed this paper upon noting in the last study on Butler-Bass's book Christianity for the Rest of Us, a resurgence of the older supernatural view of god. His sentiments are timely in the context of this present study.
0b
-
"Why Study Atheism?" - thoughts by Wayne Holst in consequence of a colleague's question about this course. Wayne considers the reasons why we need to consider this new crop of atheists in the public forum. It is a good introduction to the study.
0c
-
"On the Shoulders of Giants - an essay on the value of religion" ... Jock McTavish. Wondering why we moderns are so polarized when in past traditions knowledge was more holistic. What are the differences and values in science and religion? An inquiry into the journey to, through and from supernatural religion.
0d
-
"On Critiquing Richard Dawkins: A Moleís Eye View" ... Larry Fisk. I confess that I regularly feel like an espionage mole or double-agent parachuted into the institutionalized church. My allegiances are richly divided between organized religionís most obstreperous opponents and its deepest defenders.
1
Jan 14
Introductory Session. A night of introductions and introducing the study themes of modern atheism.
Video: Excerpts of 2 hr Ch 4 UK Special - The Four Horsemen. link to hour1 link to hour2
Commentary Notes.

2
Jan 21
Respect - Ch 1.The God Hypothesis - Ch 2, Arguments for God's Existence - Ch 3
Videos: Richard Dawkins - Excerpts from The Root of All Evil - Pt 1 - The God Hypothesis.
Full Program Links: link - Pt 1 link - Pt 2.
Also for Martin Luther King Jr. Day, Eloma Simpson Pop!Tech Link
Commentary Notes.
3
Jan 28
The Roots of Religion and Morality - Ch 5, 6
Video: Dan Dennett - The Awesome Power of Memes. TEDTalks Link
Commentary Notes.
4
Feb 4
The Atheist's Complaints about God and Religion - Ch 4, 7
Video: Excerpts from Debate between Christopher Hitchens and Alister McGrath.
Full Program - Poison or Cure? Religious Belief in the Modern World
Commentary Notes.
5
Feb 11
What's Wrong With Religion - Ch 8, 9:
Video: Excerpt on Hell Camps from The Root of All Evil - Pt 2 - Religion as a Virus
Sermon - Bishop John Spong - The Sins of Scripture. at Unity Church of the Rockies.
Commentary Notes.
Part Two -The Future of the Debate - CHANGED
6
Feb 18
Powerpoint. - The Continuing Place in Modern Society of Supernaturalist Religion - Jock
Note: If you do not have PowerPoint or OpenOffice, Click this link to get a free reader to read the above file.
Reference above papers above on Supernaturalism by McTavish and Fisk.
Video: Rick Warren Living a Purpose Driven Life
7
Feb 25
Post Modern Theological and Religious Perspectives
Powerpoint - Dietrich Bonhoeffer - Theological Visionary. Transcript. - Wayne
Video: Tom Honey - How Could God Have Allowed the Tsunami?
8
Mar
3
The Continuing Debate About Boundaries Between Religion and Science
The Spiritual Gap - Ch 10
Videos: Martin Marty - Faith and Science, Joseph Campbell - Inward Journey
9
Mar 10
Possible Guest Atheist.
10
Mar 17
General Discussion and Review of the Course with a view to sharing conclusions and responses. What are the valid criticisms leveled at our own corner of the church. What is not part of this present atheist-religion conversation? What might we share with other christian, non-christian, agnostic and atheist acquaintances. Should we speak or be silent?
Monday Evening Book Study We need to study the popular atheists like Dawkins today because they really force us to think about things we have too-easily isolated from our spiritual consciousness. This promises to be a stimulating series!

Monday evenings 7:00 to 9:00 p.m. January 14th to March 17th, 2008. Ten sessions. Tatanga Mani Room, Main Floor, Saint David's United Church, Facilitators: Jock Mc Tavish and Wayne Holst

Cost: $40.00 includes text, hospitality and contribution to increased ASDM program development. Financial assistance or bursaries available. Books may be purchased at the Church at a special publishers price if you cannot attend the sessions and wish to follow on the net, or want to give the text as a present.
Links to purchase this book: Amazon.com, in the USA and Amazon.ca, or Chapters.ca in Canada.
Holy Manners The background on the phrase and why we have adopted it. The guidelines for our studies.

Internet Discussion Group at Yahoo - the St. David's Forum. The archive is public and readable. Participation is by invitation. Click HERE if you would like to join. You will then be able to post your own responses to the list and will be emailed the notices and contributions of the others. Click left to visit the archives of the site (read only). There are presently 88 persons.
Outline of the Purposes, Goals and Overview of this study - Wayne.
Apply your heart to instruction and your ears to words of knowledge. ... Proverbs 23:12 (NIV)
Group Facilitator. Wayne Hols
t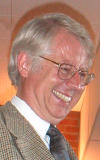 EMAIL WAYNE

I spent most of my life thinking like a church professional, rather than as a regular congregational member. My training as a pastor always had me asking myself 'how can I apply this discovery, insight, new information to a regular church setting?'

Often, clergy have been hesitant to share the discoveries they have made through a 'critical' approach to the Bible with their parishoners because they wonder how laypeople might accept it. I have found that many thinking laity are professionals in their own fields of endeavour and understand a critical approach very readily. What they seek are ways of relating faith to daily living.

I am grateful for the journey I have been taking through ordained ministry to teaching at the university and serving as a fellow layperson at St.David's United Church. Here we find that questioning and honest expression of our faith and doubt is readily accepted and supported.
Group Facilitator. Jock McTavish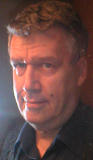 EMAIL JOCK

I am a student and a poet, a democrat and a techocrat, an eclectic eccentric. I grew up in a loving Baptist community, so in my heart I'm still a Bible loving evangelical. As I grew in learning I found a new home in the United Church whose tolerance embraces the broadest range of Christian understanding. I most enjoy the illumination of our ancient traditions by modern scholarship. For they show in clear novel ways that the perspectives of the Special Ones were seldom the understandings of those that followed. They show all knowledge to be in relationship .

There seems a lack of understanding in our secular world for religious practices. The reasons why I still gladly - even necessarily - attend church are difficult to voice to those unfamiliar with church, or those injured by church. Elliott got it right. We find our way back to the place we started from. But with new understanding.