Course Outline, References and Links - Holy Manners Study #35 - this page updates frequently.

THE BOOKSTUDY ARCHIVES. A good book is even more interesting when you study it with friends. When our studies complete, we archive them here to share. Enjoy our notes, our discussions, and our research. You are welcome to their use.

Learning to Walk in the Dark - by Barbara Brown Taylor
"The reasons that I had been given for staying out of the dark were becoming less and less convincing as I had more and more occasions to walk in it—caring for aging parents, going to the funerals of people I loved, coping with economic crisis, seeing ice caps melt, and watching churches close—all the while weighing a bag of Christian certainties that had less in it all the time. The energy required to keep darkness at bay was fast becoming more than I could manage. Perhaps there was another way? ... So here at the end, I think this may be a book about living with loss, which is tough enough in any place or time but is especially difficult in a culture that works so hard to look the other way." p393

Sep 21
Session 1
BOOK READINGS - not yet
AN EVENING OF INTRODUCTIONS - to each other, to the themes of the books, to the authors.
PRESENTATION - LINK - (PDF format includes links)
MEDIA LINKS
1. Opening - A time-lapse video of Mt Bromo, by photographer Justin Ng - LINK
2. Barbara Brown Taylor - "Learning to Walk in the Dark" 14m excerpt of her talk. LINK to full talk.
3. Joan Chittister - "Fact & Faith" - 14m TED talk. LINK
4. Closing - Shadow Dance Troupe - "The Cycle of Life". LINK
QUESTIONS FOR DISCUSSION:
1. What are meanings of "Darkness" to us?
2. What are some aspects of "Darkness" that you would like to have the course take a look at?
REFERENCES:
1. Review - Wayne Holst - Learning to Walk in the Dark - LINK
2. Review - Wayne Holst - Between the Dark and the Daylight - LINK
3.Dark Night of the Soul - St John of the Cross - Free EPUB download - Free Archive.org LINK (read or download multiple formats).
Sep 28
Session 2

BOOK READINGS
1. Who's Afraid of the Dark?
2. The Fear of the Lord
PRESENTATION - LINK - (PDF format includes links)
MEDIA LINKS
1. Opening - "The Darkness of God" - a reading from "Part III of "East Coker" from "Four Quartets" by T.S. Eliot" - 3m 38s - by "Metabob" - LINK
2. Super Moon Eclipse - 27 Sep 2015 - LINK
3. 10 Discoveries at ESO - European Southern Observatory - 7m - LINK
4. "The Absence of God" - Sam Keen - LINK - Start to The Language of God - 0:00-11:57
5. Gospel song -"God Walks the Dark Hills" 3m 35s. LINK
QUESTIONS FOR DISCUSSION:
1. Compare your stages of spiritual experience with that of the author.
2. What suggestions would you give to support those engaged in spiritual growth leadership in our faith community?


Oct 5
Session 3
BOOK READINGS
3. Hampered by Brilliance
4. The Dark Emotions
OPENING - LINK - Joan shares her thoughts on the book and a poem by Robert Frost
PRESENTATION - LINK - (PDF format includes links)
MEDIA LINKS
1. Night Skys for the International Space Station - LINK
2. Melancholics - a poem on melancholy LINK by Jock
3. "The Absence of God" - Sam Keen - LINK - Repressed Emotions section 21:35-25:30
4. Excerpt to introduce the Emotions in Disney/Pixar's "Inside Out" - LINK - 10m
QUESTIONS FOR DISCUSSION:
1. Hampered by Brilliance - Discuss "Darkness is necessary for health; we make ourselves sick with light" (p. 71)
2. The Dark Emotions - Name a dark experience in your own life and share what it has come to mean to you.
CLOSING - LINK - June reflects upon the darkness of WWII blackouts and bomb shelters that she experienced in London as a child.
Oct 12
Thanksgiving - No bookclub.
Oct 19
Session 4
BOOK READINGS
5. The Eyes of the Blind
6. Entering the Stone
PRESENTATION - LINK - (PDF format includes links)
MEDIA LINKS
1. Manitoba Celtic harpist Loreena Mckennitt - the haunting piece "The Dark Night of the Soul" LINK
2. Short clip of Hajj pilgrims at the Cave of Hira where Muhammed received the Q'uran from Angel Gabrial LINK
3. A good telling of the famous Cave Allegory told by Socrates in Plato's "Republic" LINK
4. Goblekli Tepe was discussed a bit. Oldest temple site - 12000 years! LINK
QUESTIONS FOR DISCUSSION:
1. Consider the different sorts of "darkness" Taylor introduces to us.
2. Discuss "When I entered the cave hoping for a glimpse of celestial brightness, it never occurred to me that it might be so small. But here it is, not much bigger than a mustard seed (she's talking about the tiny rock she found)– everything I need to remember how much my set ideas get in my way.
Thanks to Joan Gray for preparing and leading the evening.
Oct 26
Session 5
BOOK READINGS
7. The Dark Night of the Soul
8. Working with Darkness
9. Our Lady of the Underground
EPILOGUE: Blessing the Day"
OPENING - The Myth of the Shattering of the Vessels
PRESENTATION - LINK - (PDF format includes links)
MEDIA LINKS
1. The Shattering of the Vessels - LINK
2. National Geographic - Guillermo de Anda: Caves of the Maya Dead 14m LINK
3. Scan of Canadian Gardening article on "The Night Club" - LINK. PDF
QUESTIONS FOR DISCUSSION:
1. How do we let darkness manage our lives rather than insist on managing darkness?
2. To surrender or to resist, is that the question?
Thanks to Brenda Wallace for preparing and leading the evening.
CLOSING - Karen - Night Gardens and Poems

Between the Dark and the Daylight- by Joan Chittister
"'There is a light in us that only darkness itself can illuminate. It is the glowing calm that comes over us when we finally surrender to the ultimate truth of creation: that there is a God and we are not it. Whatever we had assumed to be an immutable dimension of the human enterprise is not. In fact, it is gone and there is nothing we can do to bring it back. Then the clarity of it all is startling. Life is not about us; we are about the project of finding Life. At that moment, spiritual vision illuminates all the rest of life. And it is that light that shines in darkness." p393
This next book is a series of meditations. We reccommend reading all 6 selections but only 3 will be discussed.

Nov 2
Session 6
READINGS
1. THE LIGHT FOUND IN DARKNESS
2. THE DELUSION OF FRUSTRATION
3. THE PLACE OF TSUNAMIS IN THE OCEAN OF LIFE
4. THE MIRAGE OF SECURITY
5. THE INSECURITY OF CERTAINTY
6. THE FRAGILITY OF ACHIEVEMENT
PRESENTATION - LINK - (PDF format includes links)
MEDIA LINKS
1. Talk on Spiritual Confusion by Dr Walden of Christ Anglican Church, NC excerpt 20-24 min
2. Talk on Integral Spirituality: from Belief to Liberation by philosopher Ken Wilbur.
3.Gloom, Despair and Agony on Me - song by old Hee Haw Gang.
4. Parable enacted - Christ and the Rich Young Ruler
5. The Divine Comedy - I Believe in the Certainty of Chance - song
QUESTIONS FOR DISCUSSION
1. what sorts of things must we remain certain about?
2. what sorts of things are we willing to live with uncertainty about?
3. what is the difference?
4. where do confusion and frustration fit in this story "between the dark and the daylight"?
Nov 9
Session 7
READINGS
7. THE EMPTINESS OF ACCUMULATION
8. THE POVERTY OF PLENTY
9. THE ROLE OF FAILURE IN SUCCESS
10. THE SUCCESS OF FAILURE
11. THE ENERGY THAT COMES FROM EXHAUSTION
12. THE PRODUCTIVITY OF REST AND RECREATION
OPENING: The Black Dot
PRESENTATION - LINK - (PDF format includes links)
MEDIA LINKS
1. Having and Being - Eric Fromm
2. The Eyes of Children Around the World
3. It is Well With My Soul
4. Compassion Fatigue - Dr Frank Ochberg
QUESTIONS FOR DISCUSSION
1. Discuss: "We can all become glutted by the pursuit of things rather than the pursuit of life."
2. Chittister writes as an American. What is the Canadian national myth of success? Is there a difference between them?
3. Another name for "good stress" is "eustress" Choose your stresses carefully.(p. 69)
"Why choose to extend, rather than save the self?" (p.67)
CLOSING: The Amazing Moment Deaf People Hear for the First Time

Nov 16
Session 8
READINGS
13. THE TEMPTATION OF SINLESSNESS
14. THE STRUGGLE BETWEEN GUILT AND GROWTH
15. THE CREATIVITY OF CONFUSION
16. THE SANITY OF IRRATIONALITY
17. THE LOSS OF THE MASCULINE EMASCULATES THE FEMININE
18. THE NEED FOR THE FEMININE IN MASCULINITY
PRESENTATION - LINK - (PDF format includes links)
MEDIA LINKS
1. Seminar "On Women and Progress in Religion" at The Parliament of the World's Religions. Sister Joan Chittister.
2. Robert Bly . "On Grief and On Being A Man" Twin Cities Television 1989
QUESTIONS FOR DISCUSSION
14. What is the difference between guilt and shame? Is guilt good? How is shame potentially positive?
17. Discuss: Women and men are equal. What does this really mean?
18. Discuss: The great question of life is not, what it is to be masculine or what it is to be feminine but what it is to be human.
Nov 23
Session 9
READINGS
19. THE LIBERATION IN LOSS
20. LONELINESS: AN INVITATION TO DISCOVER NEW RESOURCES
21. THE SEEDS OF LOVE IN FRIENDLESSNESS
22. THE LONELINESS OF LOVE
23. THE FULLNESS OF SEPARATENESS
24. THE CALL TO SOLITUDE IN CROWDS
25. THE EMPTINESS OF CROWDS
OPENING - Sally Hodges - A Reflection on Between the Dark and the Daylight
PRESENTATION - LINK - (PDF format includes links)
MEDIA LINKS
1. "The Price of invulnerability" Brene Brown. TEDx Talk. Brene Brown's Website..
2. "When Sorrow Like the Sea Billows Roll" A "lamentation" on BP Deep Horizon by Cincinnati's Luthern Church of the Resurrection.
QUESTIONS FOR DISCUSSION
19. Share with others an experience of loss to yourself or another - of death, status, or circumstance and of how it became an experience of liberation.
21. Discuss: Both introverts and extraverts can be loners.
22 Discuss: How I try to deal with failed expectations in my relationships.

NOV 30
Session 10
READINGS
27. THE CHALLENGE OF HOPELESSNESS
28. THE COURAGE OF COWARDICE
29. THE CERTITUDE OF DOUBT
30. THE BENEVOLENCE OF THE UNKNOWN
31. THE INVITATION OF FINALITY
32 THE PAIN OF THE SEARCH FOR SPIRITUAL PAINLESSNESS
Note on Documents and Videos. If in clicking documents linked in these web pages, you cannot open them, it may be because you do not have Microsoft Office installed at the computer you are at. There are two FREE alternatives. First, Microsoft themselves offer auxiliary programs called "readers" for their various programs like PowerPoint and Word. LINK. Second, a complete Office Suite is available that can read and write Microsoft documents. The Open Office Project is now in about 80 languages and an excellent program set. LINK.
Holy Manners The background on the phrase and why we have adopted it. The guidelines for our studies.

Internet Discussion Group at Yahoo - the St. David's Forum. The archive is public and readable. Participation is by invitation. Click HERE if you would like to join. You will then be able to post your own responses to the list and will be emailed the notices and contributions of the others. Click left to visit the archives of the site (read only). There are presently 88 persons.
Apply your heart to instruction and your ears to words of knowledge. ... Proverbs 23:12 (NIV)
Group Facilitator. Wayne Hols
t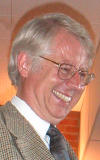 EMAIL WAYNE

I spent most of my life thinking like a church professional, rather than as a regular congregational member. My training as a pastor always had me asking myself 'how can I apply this discovery, insight, new information to a regular church setting?'

Often, clergy have been hesitant to share the discoveries they have made through a 'critical' approach to the Bible with their parishoners because they wonder how laypeople might accept it. I have found that many thinking laity are professionals in their own fields of endeavour and understand a critical approach very readily. What they seek are ways of relating faith to daily living.

I am grateful for the journey I have been taking through ordained ministry to teaching at the university and serving as a fellow layperson at St.David's United Church. Here we find that questioning and honest expression of our faith and doubt is readily accepted and supported.
Group Facilitator. Jock McTavish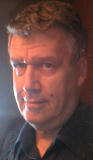 EMAIL JOCK

I am a student and a poet, a democrat and a techocrat, an eclectic eccentric. I grew up in a loving Baptist community, so in my heart I'm still a Bible loving evangelical. As I grew in learning I found a new home in the United Church whose tolerance embraces the broadest range of Christian understanding. I most enjoy the illumination of our ancient traditions by modern scholarship. For they show in clear novel ways that the perspectives of the Special Ones were seldom the understandings of those that followed. They show all knowledge to be in relationship .

There seems a lack of understanding in our secular world for religious practices. The reasons why I still gladly - even necessarily - attend church are difficult to voice to those unfamiliar with church, or those injured by church. Elliott got it right. We find our way back to the place we started from. But with new understanding.